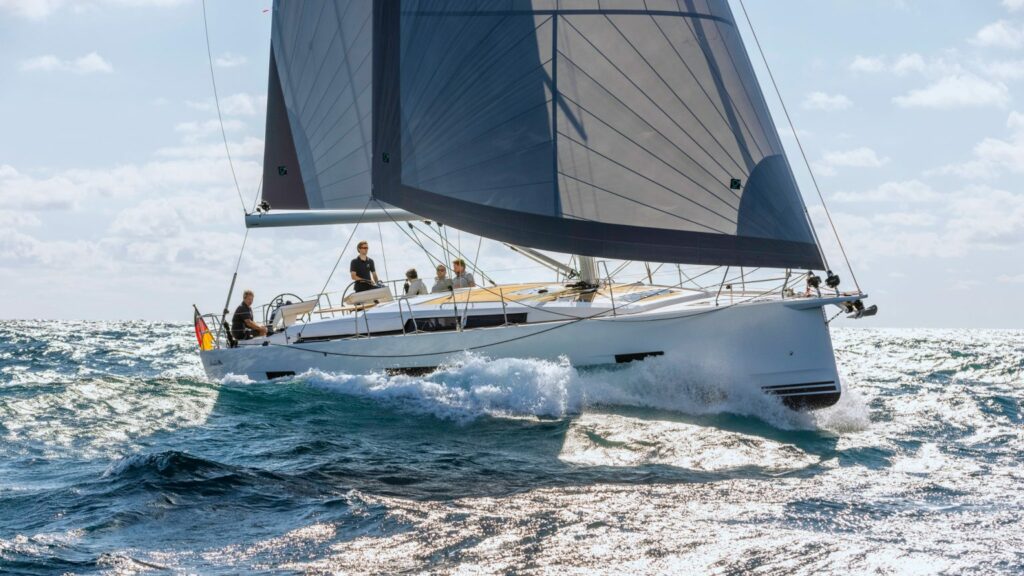 The Hanse 460 is the first in a new range of Hanses. From new designers, she is already a big hit, with over 200 sold and a European Yacht of the Year win to its name. David Harding reports
For some of us, sailing has always been about the functional and fundamental. We enjoy sailing for sailing's sake. But today people want so much more from a boat and, in many respects, today's yachts undoubtedly offer a lot more and the Hanse 460 attempts to do just that.
What you might loosely call the mainstream European builders of family cruising yachts have been following this path for some time, making each generation of designs bigger and plusher than the last. For Hanse in particular, it has been a rapid evolution from the small, basic and functional to the large and luxurious.
This latest Hanse is the first to be designed by Berret-Racoupeau. After the earliest models, which used the moulds of discontinued, slim-hulled Scandinavian designs, every Hanse has been designed by Judel/Vrolijk in what became one of boatbuilding's most enduring and successful partnerships.
In line with modern trends, each new wave of Hanses has been higher, wider and more voluminous than the last. Founder Michael Schmidt never lost sight of the performance side, however. For all their growing girths and towering topsides, Hanse has always made boats that sail – competitively-priced, high-volume cruisers but with easy handling (self-tacking jibs were used from the early days) and better performance than many of the alternatives.
The Hanse 460 is different. Very different. The first model from a new alliance with the French designers, it promptly won the European Yacht of the Year as the best Family Cruiser for 2022. A Hanse 510 version now follows.
The big question was whether Hanse had managed to do something different while retaining the qualities that its owners had traditionally sought.
At a glance, the Hanse 460 looks sleeker and sportier than earlier models; more angular, with a reverse rake to the bow and a pronounced knuckle running to about half-way aft. In Hanse tradition there are no hard-angled chines but, in this case, a pronounced soft chine towards the stern. In plan view you see full forward sections which, combined with the broad stern, generous freeboard and ample beam, hold the promise of enormous interior volume.
At the other end, a moulded bowsprit projects the anchor clear of the stem and provides an attachment point for an outer forestay which can carry a reaching headsail. Large windows in the topsides help to break up the high freeboard.
Scale those topsides and you're faced with an expanse of wide, flat deck and coachroof. Moulded bulwarks edge the side decks to help keep feet where they belong should you venture forward when the boat's heeled. Otherwise what stands out is the uncluttered appearance – lines are led aft beneath separate mouldings – and the plethora of deck hatches hinged every which way, including one that opens to reveal a large bow locker.
There was certainly nothing to complain about in the performance and handling department. We slipped along very nicely on a flat sea in 12-14 knots of wind, clocking around 7.5 knots with the apparent wind at just under 30°, and tacking through around 80° by the compass.
Enjoyable sailing
Weather helm was slight and the load on the wheels increased relatively little if I tried bearing away with the sheets pinned in, the single rudder providing plenty of grip. Provoked in the opposite direction, she coped well when pinched mercilessly and also when thrown into tight spins, only stalling briefly.
At least in the flat water and modest breeze we encountered, the cockpit worked well. In any wind and seaway you would be pleased to have the optional second table to port as a bracing point. At the helm stations you have a comfortable perch outboard of the wheel or, for energetic downwind sailing when you might need both hands, behind it. The Jefa linkage is light and direct, giving a good feel from the rudder. On the starboard side you can wind down the bifurcated backstay when extra headstay tension is needed.
Today's cockpits are no longer just places from where you control the boat. Controlling the boat in itself is so much easier anyway, especially if – as most owners of the Hanse 460 will – you upgrade to electric winches, electric in-mast reefing and electric furling for the genoa on the outer forestay.
Other push-button options are for the hinge-down bathing platform and the cockpit tables (either side or both), which can be lowered to create large lounging areas. Alternatively there are fixed tables, as we had on the port side. A wet-bar can be added between the helm seats. It's all part of making the cockpit a multi-function space in which every part can serve a variety of purposes. Cockpit stowage is in the form of a half-depth locker each side and – a first for Hanse – a dedicated liferaft locker right aft to starboard. With the electric-lowering option for the starboard table comes an extra moulded seat pod, which provides readily-accessible shallow stowage forward of the starboard helm and would be good to have for that reason alone.
Moving about the deck and cockpit, and from one to the other, is easy in good weather. The wide open spaces let you simply stroll around – or lounge if you're so inclined. Then again, they tend to present more of a challenge when a boat's bouncing and heeling.
Lifestyle choices
Externally, the hull lines clearly differentiate the 460 from her earlier stablemates, but down below it's a world apart. It's certainly a more classy finish than we've seen before from Hanse; restrained in tone and a level above what we have become used to. Berret-Racoupeau is one of relatively few yacht design studios to have its own interior-design division.
A host of interior layouts is available, from three to five cabins, up to four showers and from six to 10 berths. About the only constant is the presence of twin double cabins in the stern. Otherwise you can have different arrangements in the bow (cabins and heads) and amidships with a long or short linear galley and a bunk cabin or utility room to starboard where our boat had a chart table and heads compartment.
Details include backrests that hinge down in the saloon to provide trays and drinks-holders. You can press a button to lower the table, press another to pop up the TV from its central pod, and settle in for the evening.
Down here it's all about sight-lines, integrating the different areas so no one feels left out, and ensuring that, as in the cockpit, every part of the layout performs multiple functions. In practice it creates a thoroughly pleasant and remarkably light environment.